We decided, on rather short notice, to go to the Eastern Free State at the beginning of July, in the hope of seeing snow. We found Caledon Mountain Lodge on the Internet, and book cottage 1, high up on the mountainside. Having left Pretoria just after 15:30 that afternoon, we arrived after dark and in bitter cold, but a warm reception from Sharon and Mike and delicious three-course meal chased away the cold.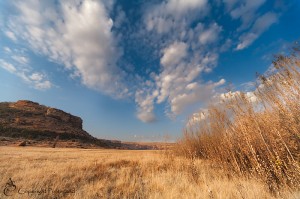 Saturday morning we were up early, and set off with our cameras into the sweet early morning light. We took some general landscape shots in the soft morning-light, and as the light got progressively more harsh, proceeded to play around with photographs of the horses grazing nearby.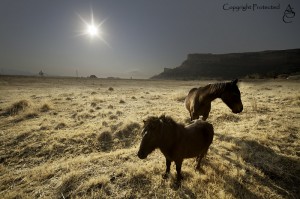 After breakfast, we decided to drive into Clarens. Clouds blowing in from Lesotho provided fresh photographic opportunities, causing us to take far over and hour to drive the few kilometers to the main road.
We spent the afternoon strolling around Clarens, enjoying the art galleries and interesting shops.
After dinner (and the most devine dessert we've ever had – Chocolate Springrolls), Sharon's ginger cat decided to adopt us, following us up to our cottage, and mewing so persistently outside the door, the we were forced to let her in. Unfortunately I am allergic, and because she insisted on sleeping on our bed, we had to throw the poor little cat out into the cold, rainy night.
Sunday morning dawned wet and misty. The little ginger cat was back, mewing outside the door and at the windows again, and eventually surprising us by climbing up the door, going for the door handle, and letting herself in!
After a last delicious breakfast we headed towards Golden Gate Highlands National Park, and spent a few glorious hours driving through the mountains, stopping ever so often and taken a lots of photos!