Botswana, April 2011 – Day 1
|
It was the Easter weekend of 2011, and we loaded the bakkie and headed off to Botswana with a group of friends.  Our destinations were Kubu (Lekubu) Island at the Makgadikgadi salt pans, and the Khama Rhino Sanctuary.
We drove through to Swartwater on Thursday night, in the hope of getting through the border early Friday morning. It was not to be. We arrived at Groblersbrug border post on Good Friday morning, to be greeted by "go slow" strike action, and utter chaos.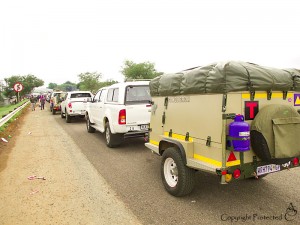 Six hours and a lot of swearing later, we were through the border, and headed for Kubu Island. Due to the delay at the border, night caught us still on the tarred roads. Bravely (or stupidly) we pushed on into the darkness.
With the help of a GPS and some friendly locals, we found our way through the last settlements long after dark. Suddenly slipping and sliding across the first of the soggy pans, we started getting seriously worried: Were we still on the right road? Would we suddenly break through the crust of the pan, and get stuck in the notoriously sticky mud underneath? And then – a gate!
We reached the gate in the rain, just after 9:30 pm. The gate guard had no trouble convincing us to give up getting through to Kubu Island. We parked in front of the guard's house and our friends opened up their roof-top tents. Tired, cold and wet, we decided not to pitch our dome tent as well, but to rather sleep in the bakkie. I had never imagined that one can sleep so soundly sitting up on the front seat of a bakkie!