Botswana, April 2011 – Day 4
|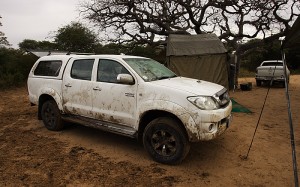 Our first morning at Khama was heavily overcast, so we had a little lie-in before going on our first game drive.  When we eventually got up, we discovered a mess of antelope tracks around Bennie's bakkie, and obvious signs that they saw the salty mud on the bakkie as the perfect savoury treat, a.k.a. a salt-lick! (Note: the entire bakkie was covered in mud when we went to bed).
The clouds filtered the light beautifully, but unfortunately the sightings were poor, and the only photo opportunity was a small herd of Springbok at a water hole.
The afternoon drive was more successful: sightings included several Rhino – the main reason for the park's existence.