Sable dam & Satara, 2014 – Sable Dam Hide
|
We entered through Phalaborwa gate just after 4pm. The very friendly gate staff supplied us with the keys to the enclosure around the hide, a braai grid and a rechargeable light. As is customary, we turned off the radio and opened the windows as we slowly drove the few kilometres to the hide.
Sable dam was still very full after the heavy rains of March, and the bush around it lush and green. We pulled into the hide and unpacked our cameras just in time to photograph the spectacular sunset, reveling in the fact that we didn't have to hurry away to get to another camp or gate in time.
The amenities at the hide is very basic, but sufficient. There are two braai-areas, complete with braai, some seating, and a table with a bench where one can sit if want to. Inside the hide are 9 beds with surprisingly decent mattresses. Both doors have sliding locks, and all the viewing opening inside the hides have mesh shutters that can also close with sliding locks, to keep unwanted "guests" out during the night.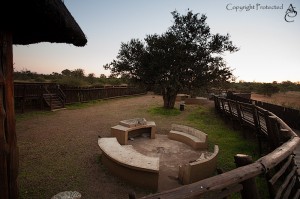 When the sun was gone, we built the braai fire and had dinner, followed by hot-chocolate, made with water boiled on the fire, while listening to the night sounds and marveling at the intensity of the stars. Lions, Hyaena and Jackal raised their voices above the background noises of insects and the bats that prey on them. Once, an amazingly loud lapping-sound turned out to be a spoon bill filtering through the shallows towards the right side of the hide.
Early the next morning, we re-stoked the fire, boiled water for coffee, and left the hide behind, hoping to find the owners of some of the voices we heard through the night. We found one – a lone Black-backed, that paused in the grass, lit by the early morning sun, just long enough for a few quick photos.