We had decided not to do the obvious and leave via Orpen gate, but to rather drive all the way down and exit at Crocodile Bridge gate. The map told us that Satara Camp to Crocodile Bridge is 127 km, so we calculated that we would be at Crocodile Bridge between 11 am and 1 pm. We should have known better!
We started the day by driving through Satara Camp with our GoPro camera, recording the look and layout of the camp.
After dropping off the keys, we turned the car South, towards Crocodile bridge.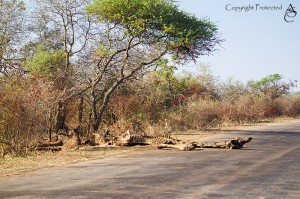 The sightings for the day were not spectacular – the usual general game, baboons, and elephant roadblock. We rounded a corner, and saw something in the road that looked like the usual elephant dinner leftovers, but on closer inspection, turned out to be much more interesting. It was a giraffe skeleton, still with some skin left on the head, lying halfway into the road. Not elephant dinner leftovers – lion dinner leftovers!
Happy to have kept up our record of always seeing something unique on our way out of the park, we continued on towards Tshokwane, stopping at the Southern-most Baobab, pausing at water holes, trying to identify birds, and generally not focusing on getting to the gate. We pulled into Tshokwane around noon, and had a delicious lunch of Kudu wors and pap.
After lunch, we drove the spectacular section of the H10 between Tshokwane and Lower Sabie, over the so-call "Roof of Kruger", past the Mkumbe lookout. Wow, what a sight! Unbelievable, on our 12th trip to Kruger, it was the first time we saw this stunning part of the park.
Beginning to realize that time was ticking and the road back to Gauteng was still far, we started pushing on a bit more, and finally crossed the Sabie river – with more water in the river than we had ever seen! Regardless of the time, we also couldn't resist stopping at Sunset dam for a few minutes. Even though there wasn't much going on at Sunset dam, it is always a magical place to sit an relax for a few minutes.
We reached Crocodile bridge just before 3pm, and quickly ran into the shop to stock up on Ginger beer and Marula cool drinks, leaving the park over the low-level bridge. Like the Sabie river, the Crocodile river also had more water than we had ever seen. After slowly crossing the bridge, we hit the long road to Pretoria with heavy hearts, and plans for a quick return to Kruger.